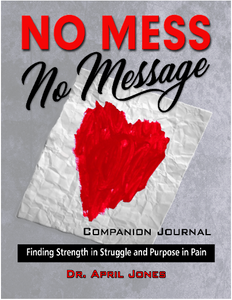 This 30 page companion journal is my gift to you. Just click to purchase for ZERO dollars and sign up for my newsletter! IF you LOVE our ministry and mission to ENCOURAGE, please consider DONATING to our cause any amount on your heart. You can do this by adding donation as an item to your shopping cart.
I wrote this deeper dive of inner-exploration and Bible study that can help you get the most out of the book and works great for both self-study as well as small group! Each chapter in the journal corresponds to a chapter in the book.
No Mess No Message is all about what your story and how you can grow and learn from the experiences you've had and the challenges you've faced. The journal helps to reinforce those take-aways.
Enjoy!
April
Copyright restrictions apply.